I have just bought a kwolity e trike from John at kwolity for my 83 year old dad.

John was very patient and accommodating and did his best to get us a demo bike at very short notice over the summer period.

He applied no pressure to buy and was very easy to talk to. I will have to update my testimonial for after service, but so far everything has been awesome.

As for the e-trike, we purchased a white one.

The wheels were a little smaller than we expected and the trike is quite narrow, but this means it easily fits through openings.
The e-trike has a great feature with its 'swivel/tilting' mechanism which allows the rider to lean into and turn easily and safely.

The internal hub gears were a must for my father and although he expected 6, he has found the three to be ample to do the job.

My father told me he found the trike comfortable once he adjusted the seat and handle bars and after having tried a trike with no tilt, this one was a breeze to ride.

He found to ride without power for a start then gradually introducing power was the way to go as the trike has a bit of 'get up and go' and his first ride down to shops was no trouble. He used power only a few times as it was easy to just peddle.

We thought the e-trike was a great bike for a great price and I can't wait to see how far dad goes on it.
I purchased a KWOLITY e-TRIKE from John the sale was easy the service was great and as promised the Trike was delivered assembled and ready to go.

I am 'over the moon' with it – the Trike is so easy to ride and maneuver, the exclusive tilting frame gives stability and a feeling of comfort – I am 78 years of age have a false ankle plus other illnesses and have not been on a bike for about 60 years - so I was a little hesitant when I first rode the trike however after about 10 minutes I felt my confidence returning as the trike moved with me – I knew I wouldn't fall off

I now use the KWOLITY e-trike to go everywhere I go daily I can really recommend this company and the product to anyone
I am very pleased with my Electric Trike. Assembly is very easy and the build quality is excellent. It will take me a little while before I can use the tilting mechanism as it is many years since I have been on a bike, but I am perfectly happy to ride it in locked mode for now.
Dear Bicycle Riders,

If you are reading this it could mean you are looking for a E Trike, Well go no further. My wife ( Lyn) and I just purchased a Kwolity E Trike today and we can tell you from our wonderful experience, dealing with John of Kwolity Bikes it's the best decision me made. Lyn and I researched in magazines and on the internet for months so it was no light decision to make. Kwolity came out the best in Quality, Service and of course Price Stop wasting time and call Kwolity now and see what enjoyment they have to offer Cheers for now and happy riding

Steve & Lyn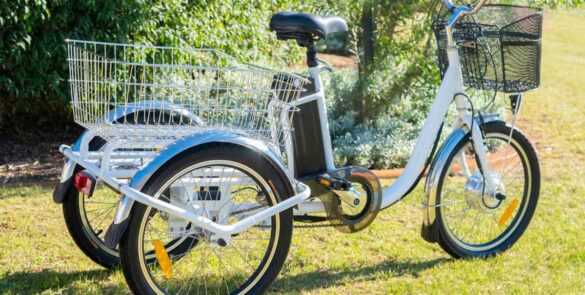 I am a 63 year young retired adult, travelling around Australia with my husband in a caravan who is wanting to be more active and get a bit of a workout without the fear of injury when riding a bike/trike.

I selected a Trike as it offers more balance than a bike by offering the stability of 3 wheels when carrying some shopping, which will boost my confidence when riding amongst traffic.

I had done a fair amount of research prior to the purchase of an E Trike and found the Kwolity E Trike brand to be far more superior to any other brand on the market. My initial contact was Graeme from WA who was very helpful, friendly and explained the trikes features and benefits.

When riding the trike I felt safe and comfortable straight away without the fear of tipping over as it has a Tilting Frame Function Mechanism. (I believe this is unique to this trike)

I love the strong, stable frame around the wheels of the trike and how narrow it is as it fits in the rear of my Land Cruiser very comfortably. Having both front and rear wheel brakes assured me I would not have any problems when needing to stop.

The 3 speed hand throttle assist on the Electric Trike is great, certainly helped when going up an incline and very easy to operate.

The two baskets are amazing as they carry a lot of items and very handy for groceries. Other trike brands do not offer this many features (and I know cause I researched many) as the Kwolity E Trike Brand, it has been designed with a lot of thought where the designer is also the rider knowing exactly what is needed.

I know there are many other features that I have not mentioned but what really sold me was the personal phone contact with Graeme in WA and Jason in Victoria that offered his trike for me to look at and trial before I bought one and to ensure it suited me and fitted in my vehicle without pulling it apart.

My trike came from NSW where I was contacted by John who was equally as friendly and helpful, arranged for the trike to be shipped to Melbourne within a week of ordering, had the trike assembled and hand delivered to my house by the service man who explained how the trike operates.

I would highly recommend the Kwolity E Trike to anyone wanting to keep fit and active and be mobile around the community, appreciating the extra safety features this trike offers.

Mim
Hi John,

I just wanted to thank you for the service you provided with the trike I just purchased. You loaned us an e-trike initially which we tried out, were happy with and proceeded with the purchase.

After about a month the bike developed an electrical problem. I contacted you by email (on a Saturday) and you responded the very next day. You emailed that you had contacted one of your serviced agents, Tune Cycles Marrickville, who would be in contact with me to sort out the electrical problem with the trike. You even followed up the email with a confirmation phone call.

Hayden from Tune cycles offered to send one of their mobile service/repairman to me. However as it was an electrical problem and the repair shop was very close to me, Hayden and I agreed that was better that the trike went to the workshop. I dropped the trike off to Tune Cycles the next day.

Hayden said the trike would be ready by the end of the week. On the Saturday morning I received a text that the bike was ready and that I could pick it up or Tune Cycles would deliver it to me. Again as the workshop was relatively close to me, I picked up the repaired trike.

Again I want to thank you for the swift and efficient after sales service that Kwolity Trikes and Tune Cycles Marrickville provide.

PS my wife just walked in an suggested we go for a cycle ride.

Jeff
Hi Graeme, It's paradee here. I would love to give some review to your lovely after service. Graeme has been very helpful with my purchase. I got his absolutely outstanding after service. I had a problem with my key( my fault) I gave him a call. Graeme never hesitate to drive to my place and help me out the next day even my place is far from his shop. I can see he love what he de and he is honest to his customers. Thank you again Graeme.
Paradee